Best gardens in Somerset
Category:
News
7th June 2022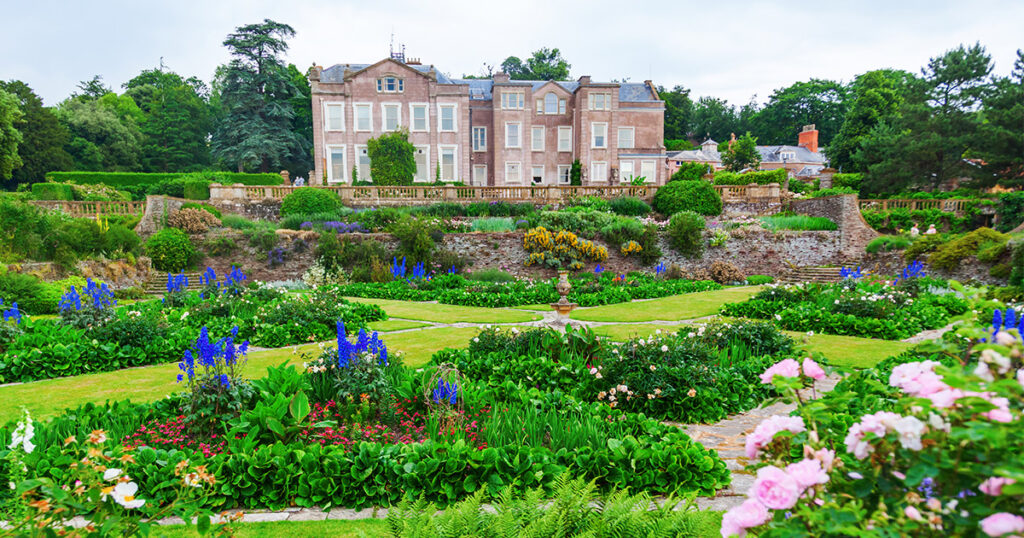 Late spring has dressed the countryside in dazzling shades of green, making it the perfect time to plan a visit to one of Somerset' glorious gardens. Luckily, for visitors to this green-fingered county, there are plenty to choose from.
Hestercombe House, not far from Taunton, has 50 acres of gardens that have been developed over three centuries but were only "rediscovered" in 1991. The important Edwardian formal garden here had to be rescued and is now Grade 1-listed. Designed by Sir Edward Lutyens, with planting schemes from Gertrude Jekyll, it features a sunken garden – the Great Plat – and a 68m-long pergola. Hestercombe's Georgian landscaped garden was also restored during the 90s, staying as true as possible to its original design. It is loved for its large ponds, waterfall, restored follies, watermill, summerhouse, "witch's house" and various seating alcoves.
In South Somerset, Barrington Court, is an empty Tudor mansion backed by small but whimsical walled gardens and cottage gardens with blousy, flowering beds, like those in the White Garden, Rose, Lily and Iris gardens. There is also a productive kitchen garden, plus a second-hand book barn to browse, alongside artisan workshops in the old barns.
If you like your gardens a little wilder, those at the National Trust's Fyne Court, midway between Taunton and Bridgwater in the Quantock Hills, form part of a nature reserve. While there is not much left of the Georgian house itself following a fire in 1894, there is plenty to see outdoors. Trails run along a serpentine lake, past a boathouse and a folly, then through an arboretum. A walled garden teems with wildflowers that attract insects.
Close to the top of every gardener's to-see list in 2022 are the gardens and 800-acre estate at The Newt country house hotel, formerly Hadspen House. The gardens here were shaped by Penelope Hobhouse in the 1970s, then were home to the various "colour" gardens of Nori and Sandra Pope in the 80s. Before the house reopened as a hotel they were redeveloped, with the latest transformation by Italo-French architect Patrice Taravella designed to be both beautiful and practical. An apple tree maze sits within a walled garden and some of the colour gardens remain, while other areas take the visitor on a stroll through various garden styles.
Round off a visit with a look inside The Story of Gardening museum, reached via an aerial walkway through the woods. It features interactive exhibits on gardens around the world. Ticketed walks, workshops and bee safaris are being held at The Newt throughout the summer.
Penelope Hobhouse also had a hand in cultivating the peaceful gardens at Tintinhull, a 17th-century manor house near Yeovil. These were initially imagined by Phyllis Reiss, an amateur gardener, and the Fountain Garden is a particularly dreamy space. The contemplative ponds here include the Pool Garden, which was created in memory of Reiss's nephew, who was killed in the Second World War.
The medieval house of Lytes Cary Manor meanwhile, outside Somerton, has an Arts and Crafts-inspired garden. Visitors will find various "rooms", a restored historical pond, an extensive orchard and striking topiary. Go on a ramble around the estate to discover the dovecote, remains of the Roman Fosse Way and the river, where grassy banks and beds of rushes have been left undisturbed to attract insects and water voles. Grassy areas also provide an important habitat for the endangered Shrill carder bee.
Shepton Mallet's secret garden is overlooked by the disused Charlton viaduct. Kilver Court is a former mill and its gardens include a colourful formal garden, a romantic rockery and a lily-strewn weir. The gardens are currently only open for pre-booked parties of 5 or more but there are also fashion outlet shops here – including Mulberry and TOAST – to make a visit worthwhile.
Near South Petherton, meanwhile, East Lambrook Manor Gardens is known for its collection of geraniums and snowdrops, plus the legacy of gardener and writer Margery Fish. The grounds are a fine example of the English cottage garden style and borders are flush with blankets of colour. The plant nursery is a big draw for many and displays an extensive collection of geraniums in summer.
The changing seasons are reflected in the gardens at Tyntesfield, west of Bristol, also. The ornamental terraces are home to more than 10,000 flowers over summer, while the rose garden explodes with colour and can be enjoyed from two Victorian gazebos. There is also an arboretum and a carefully restored orangery.
A final option is to plan a wander up the magnificent drive of yew trees that lead to Montacute House, a grand, Ham-stone manor just outside of Yeovil. In the house's north garden, raised walkways pass ancient shrub roses and look out over the outline of a Tudor parterre that has recently been mown into a lawn of wild grass. In June, the first orchids to flower should be visible. Don't miss the orangery either, built in 1840, and the large cedar lawn which, with towering cedars and a wibbly-wobbly yew hedge down one side, is popular for picnics and games.
Each of these gardens have various events taking place over the summer, so there is no excuse not to get planning. Check individual websites for more information and devote some time to relaxing with nature, just as the generations before us did.