Europe's Largest Naval Aviation Museum
More than 90 aircraft belonging to the Royal Navy are housed in four halls at this museum, as well as an award-winning exhibit that simulates life in an aircraft carrier.
It is an awesome sight to view – from above and below – this collection of aircraft that spans more than 100 years and includes helicopters plus the first British Concorde. There is also the chance to feel what it is like to step onto an aircraft carrier and to see what happens inside.
What's it all about?
If you want to watch the Royal Navy Air Service Yeovilton's aircraft going through training procedures from the museum's viewing area, you will need to visit during the week. 
A visit to the museum itself begins in the welcome gallery, which introduces you to the museum's vast hangars and contains stories about naval heroes. In the first hangar, you will find historic planes and helicopters, including bi-planes, such as a Short S27 and a Fairey Swordfish bomber. There is also a fun morse-code area where you can try to crack a message from a blinking light across the hall.
Talks about aircraft history are sometimes held and family-friendly activities can take place during the school holidays. Flying suits worn by King Charles during his time serving at RNAS Yeovilton will be displayed to mark the coronation, alongside photographs.
What can I expect to see?
There is a stomach-rattling walk through a Wessex helicopter, which shudders as if in flight, to get to the new aircraft carrier experience. Visitors walk onto a simulation of the aircraft carrier's deck, with one, long wall of the hall showing planes taking off and landing in surround sound. Fighter planes that would have been used on a carrier stand around for inspection.
Visitors then take a large lift in which a film plays, introducing them to the different levels of a 1970s aircraft carrier. These are explored on foot, with the sleeping quarters, the bridge and various control centres mocked up with mannequins. Video clips pop up here and there, with footage of crew members explaining their various roles on board.
The remaining highlight is Concorde 002, which sits in the final hall and can be entered via steps at the back. The narrow interior features seats but these were not original to the plane itself, which was a prototype for testing. Her last flight was to the museum in 1976. Those who board her can view the cockpit and learn about supersonic plane travel.
Where is the Fleet Air Arm Museum located from the Berrys Drop Off in Ilchester?
RNAS Yeovilton, Ilchester BA22 8HT
We've included a Google Maps route to help guide you there.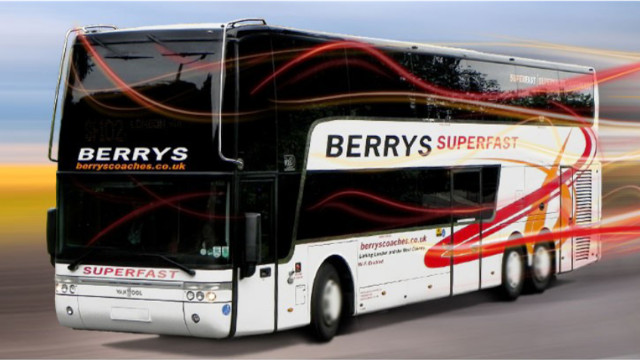 How do I get there from the Berrys drop-off point in Ilchester?
The Berrys drop-off point is at Ilchester and will take approximately 49 minutes to walk to the Fleet Air Arm Museum.
Once you step off the coach head north (into Ilchester itself) along Church Road for approximately half a mile. Once you reach the roundabout, bear right onto the B3151 road and continue along for approximately 2 miles.
Keep walking until you see more buildings and a sign saying "Welcome to the Fleet Air Arm Musueum".
You will see a large hangar and play area on your right which is the musuem itself.