Celebrating carnival, bonfire night and seasonal Somerset traditions
Category:
News
27th October 2022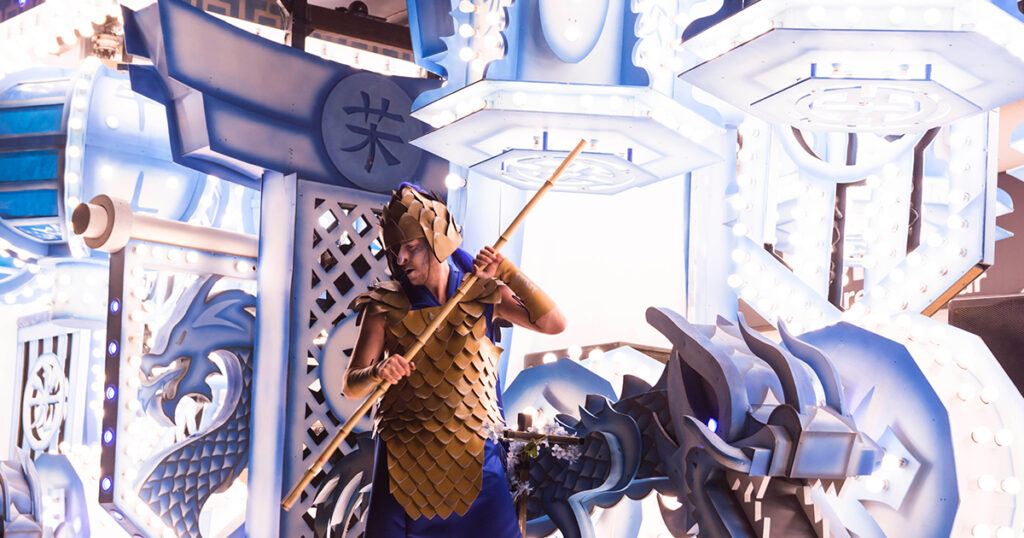 November is a lively month in Somerset and as the 5th of November draws near, there are plenty of ways to commemorate Guy Fawkes' failed gunpowder plot. Historically, a group of the county's towns, along with the city of Wells, celebrate Guy Fawkes by lighting up the streets with some of the UK's best illuminated carnival processions. Seven carnivals are part of the Somerset County Guy Fawkes Carnival Association and some have been going for more than 100 years. They take it in turns to stage processions throughout November that draw thousands of spectators who line the streets. Cups are won by the most spectacular carts – carnival floats – which are made by teams around the West Country. The best walking groups are also awarded. Each carnival holds a street collection that goes to help various charities.
Bridgwater kicks off proceedings, with the first festivities on the carnival circuit taking place on Saturday, November 5th. The streets fill with dancing masqueraders and 30m-long carts carrying dazzling light displays, themed sets and costumed people. Parish records suggest that locals were making squibs – a local firework – at least as early as the November of 1716, when it reported deaths from exploding gunpowder in a Bridgwater house. Newspaper reports date the carnival itself to 1847. In the past well-known effigies were added to a large bonfire. A riot in 1880 led to the formation of the carnival committee the following year. Nowadays, the procession, involving around 50 carts, starts at 6pm and lasts one hour, 45 minutes. The squibbing display, when fireworks attached to poles are held aloft by 165 people, takes place at the end of the procession. Every effort is made to ensure there are no damp squibs!
The carnival circuit then continues at Highbridge and Burnham-on-Sea on Monday, November 7th, after which it's the turn of Weston-super-Mare on November 11th. The seaside town will have seen its huge See Monster art installation – built on a North Sea platform and opened in September – dismantled for winter the weekend before.
North Petherton's carnival then takes place on Saturday, November 12th, having reportedly first been held in the 1880's. Carnival festivities had virtually ceased by the turn of the century but the tradition was revived in 1949. Shepton Mallet's carnival follows, on Wednesday, November 16th. It first took to the streets in 1965. A couple of days later, the city of Wells will celebrate, on Friday November 18th. Then finally, the Somerset carnival circuit concludes with festivities in Glastonbury on Saturday, November 19th.
Other seasonal traditions which are celebrated annually in Somerset include Somerset Day on May 11, which marks Alfred the Great's victory at Eddington (in 878) and wassailing in early January, an event that involves singing in orchards to encourage a bountiful harvest later in the year. In Wells, there are also the Moat Boat Races in August, held on the moat of the Bishop's Palace.
Celebrations inspired by the gunpowder plot are not limited to Somerset's carnivals however, with fireworks and bonfire nights also planned around November 5th. In the pretty village of Barrington, near Ilminster, on November 4th, a bonfire and pumpkin night is planned for the village hall. On the same night, fireworks will light up the skies above Wells City Football Club.
The following night, on Saturday, November 5th, Durslade Farm, outside Wincanton, hosts fireworks and music. The site is also home to a farm shop, the Hauser & Wirth art gallery and the excellent restaurant Roth Bar & Grill, which will open for food afterwards. Down on Exmoor's coast, Watchet is a small town that has a new, harbourside arts space, East Quay. Its bonfire night will be held at Roborough Shed, in aid of Somerset's Young Farmers' Clubs. Also being held on November 5th is a Bonfire Night at Oake Manor Golf Club, in Taunton. In Shepton Mallet, the Rotary Club is lining up the bangers at West Shepton Playing Fields. At nearby Castle Cary RFC, meanwhile, those wrapping up warm for an evening outdoors can enjoy barbecued food while they ooh and aah over the town's colourful explosions. There is live music too.
A family disco is planned alongside a fireworks display at Paulton Rovers FC (north of Shepton Mallet and Wells) on the same night, while there is also a bonfire and fireworks night at Tatworth's Playing Fields, which are a 15-minute drive from Ilminster.
Weston-super-Mare's Cricket Club is putting on a bonfire event on Saturday the 5th too. A week later, on November 12, a fireworks display is being held at Puxton Park, a farm-themed adventure park just outside of Weston-super-Mare.
Wherever you are in Somerset in November, it should be easy to commemorate the plot that, according to the well-known folk verse, should never be forgotten.