Pumpkins and Punkies
Category:
News
2nd October 2023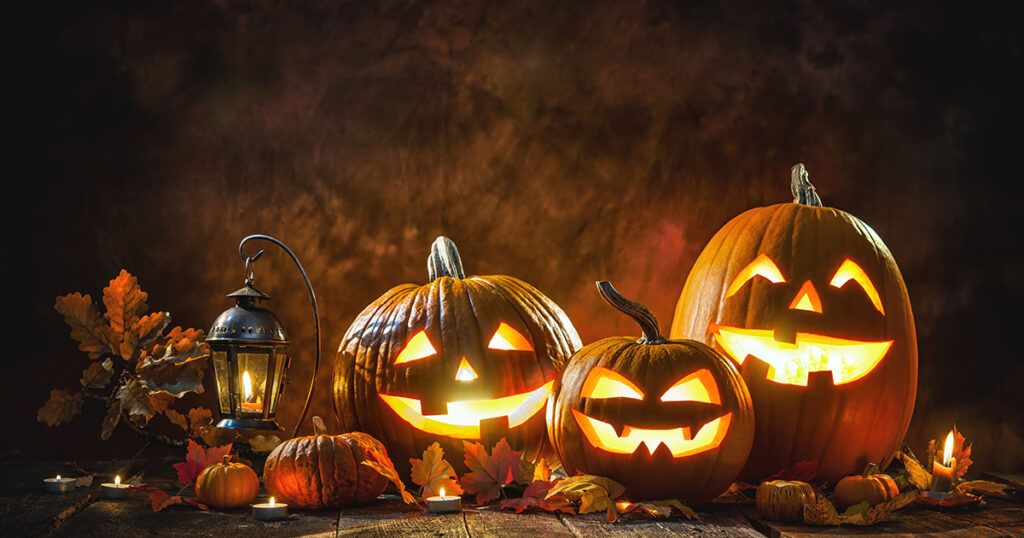 It is the time of year when once again the county of Somerset reverberates with the sounds and sights of Halloween. Whilst this is a popular time of year for events and parties, visitors to the county are probably not so aware of the special happening which takes place in the village of Hinton St George not far from the drop off points of Yeovil, Ilchester and Taunton.
This event which takes place on Thursday 26th October is not linked directly with Halloween but does have many of the attributes which are associated with the end of October and those misty Autumn mornings and spooky evenings. The event which usually starts in the village hall with a competition to find the most original and intricately carved punkie lantern and the crowning of the Punkie night queen and king. After the crowning of the two dignitaries and presentation for the best lantern (which is made from a mangle wurzel) a procession forms outside and then winds its way around the village stopping at different houses. A member of the party then knocks on the door and the assembled body sing the punkie night song.
Give us a candle.
Give us a light.
Its Punkie Night tonight
and hopefully collect a donation. This procession then proceeds around the rest of the village returning at the end of the event to the village hall.
It is said that it all started many years ago when the wives of the village heard strange sounds coming across the fields. Instead of field spirits these were in fact the sounds of their husbands who were returning from a local fair. Many had been enjoying themselves during the evening and so were somewhat merrier than usual. The women who went in search of them and took with them lanterns made of mangle wurzels. In fact, they eventually found their menfolk cowering and huddled in the bushes as they feared that lights from the wives' lanterns were the 'Punkies' the souls of unbaptised children.
The event is open to all and is usually attended by hundreds of people who line the streets some joining in the procession as it passes around the village.
Halloween lanterns which are traditionally carved out of pumpkins are said to have their origins in Celtic times when they used to use instead the skulls of their ancestors! These were then placed outside the entrance to their homes. The lanterns were said to ward off spirits. The hollowed-out pumpkins are sometimes called Jack O' Lanterns. It is said that Jack was an Irish fellow who wasn't allowed to enter heaven or hell and so wandered about the world with just a candle which he put inside a hollowed-out vegetable.
In olden times people used turnips but as pumpkins became more popular and were easier to hollow out, they eventually took over from the turnip which was much harder to carve.
For those travelling to the drop off point at Wells you might be interested in attending the 'Spooktacular' which takes places on Saturday 29th October between 10am and 4pm at the town hall located in the marketplace.
For those travelling to Taunton you should make for the Museum of Somerset where on Saturday 28th October you will have the chance to dress up and do all sorts of spooky things. Designed for families and over fives everyone will need to purchase a ticket. The whole event is going to be held in darkness so make sure you bring a torch. You will also need to keep to your time slots.
Bruton Museum, close to the Wincanton drop off point is having a special event on Tuesday 24th October between 14.00 and 15.00 when professional storyteller Sarah Lloyd -Winter will be providing a special Spooky Storytime.
The Newt close to Castle Cary also has a range of outdoor events around Halloween which can also be found on their website.
For those of you stepping off at Shepton Mallet, Wookey Hole have a great event between 21st to 29th October when you will have the chance of an encounter with the Witch of Wookey Hole. Turned into a bustling coven of ghoulish delight you can join the pumpkin trail or learn more about the Wicked Witch and her family finishing off your visit with a trip to incredible Halloween Circus Show.
For Warminster passengers there will be the spooky sights at Longleat which this year includes Pumpkins Galore and many other events running during half term between 21st October and 29th October. Get to know you owls and much more at this amazing location close to Warminster, Frome and Shepton Mallet.
Those who might be leaving or boarding at Amesbury there is the nearby UNESCO Stonehenge Site which has a myriad of connections to Halloween in its many different forms.
So why not celebrate in style in Spooky Somerset and Wiltshire and book your next trip on Berrys Superfast service today.