I Am A Cider Drinker
Category:
News
25th October 2023
Somerset and the surrounding areas have always been famous for the cider manufacturers and there are a large number in our region . These include Sheppey's, Thatcher's and Showerings at Shepton Mallet.
Visit any supermarket in the county and you will find an array of different brands and flavours. Varieties of white cider are also very popular in China including Diamond White produced by Showerings.
Whilst many of these major brands sell extremely well there are still a large number of much smaller manufacturers. One of these is based in the tiny hamlet of Shepton Montague close to Castle Cary and Berry's dropping off point at Wincanton. Here Oliver Dowling produces a number of local award-winning ciders and apple juices. Based on the edge of the village he uses organic methods to grow his apples which have won several major awards at local county shows. The orchards are well maintained and provide an exclusive well priced cider. Using locally sourced apples often from the villagers he has built up a successful small business.
Another individual manufacturer is based at Kingsbury Episkopi where Julian Temperley has been creating a range of Burrow Hill ciders for over 50 years. Sold at the world-famous Glastonbury Festival he uses local apples. These delicious brews have gained a great deal of popularity not only with the festival goers but also much further afield. Burrow Hill is well worth a visit and whilst there you might like to find out more about his delicious Somerset Cider Brandy which again has won numerous awards.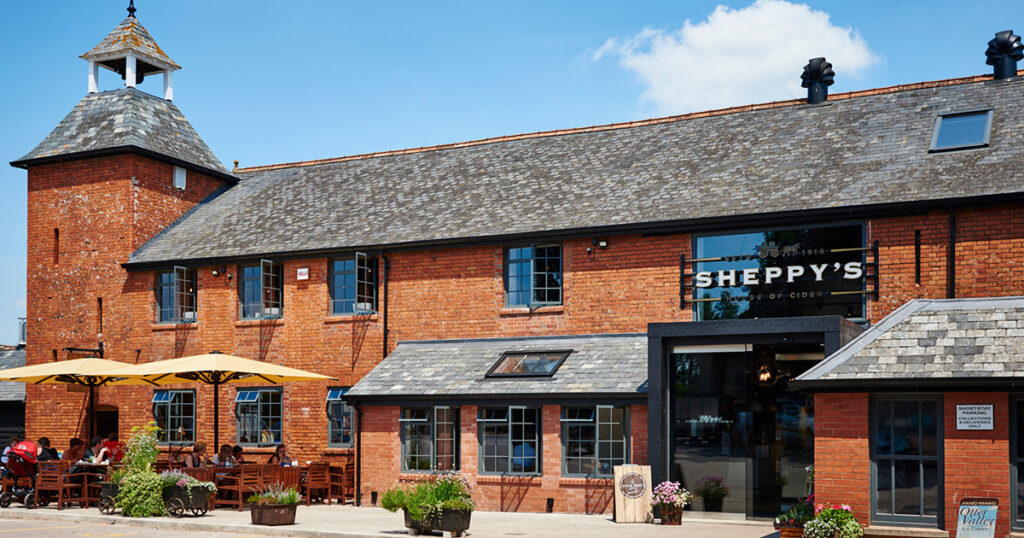 Sheppey's is a family run business and has over the years gained a reputation for its exclusive one variety ciders including Kingston Black.
Located between Taunton and Wellington in the heart of Somerset they are a family-run farm that has been manufacturing ciders for over 200 years, making them one of the oldest independent cider manufacturers.
At their cider producing site they grow, harvest, press and bottle their products. A great day out you can see behind the scenes and enjoy a tour or even treat yourself to a hot drink and a cake in their award-winning House of Cider where they have something for all the family.
At this point it is worth mentioning the world-famous Wurzels who over the years have sung about this amazing drink. One song in particular is 'I am a cider drinker'. A cover version of the Paloma Blanca hit written by George Baker the version produced by the Wurzel back in 1976 had plenty of references to life in rural Somerset mentioning rabbit stew, combine harvesters and of course enjoying a pint of cider at the local pub! A newer remastered version together with video was produced in 2007.
If you get a chance do try to see the Wurzels live, they have reinvented themselves over the years several times and still perform extensively in the West Country and elsewhere.
Cider making is very much part of life at the Newt. To get an overview of the many different apple varieties then make your way to their very special location near Wincanton where you can experience apple varieties from all over the country. The extensive apple orchards combined with the Roman Villa, shops and gardens make for a wonderful day out.
If you're looking to find out more about the history of cider making one of the best places to visit is the Museum of Social and Agricultural History of Somerset. Located in in buildings surrounding a 14th-century barn which once belonged to Glastonbury Abbey it is open Tuesday to Sundays from 10.00 am. Family tickets are available, and they always have a packed programme of events.
Cider has been produced in Somerset and the surrounding areas for around 1000 years and was considered at one time a remedy for keeping your skin healthy.
There are plenty of cider tours on offer in and around the county including one based at Myrtle Farm, This is the home of the Threshers Cider. Their Railway Inn and Farm are all accessible by wheelchair and there is disabled parking. The company was started in the early 20th century and after four generations is still producing world famous cider. It is located at Sandford at the base of the Mendip Hills, between Churchill and Banwell in the north of the county.
One event associated with cider making and once again becoming popular is the traditional wassail. Taking place in January a search on social media should bring up a number of places holding this event. Wassailing is carried out to promote a fruitful harvest in orchards around the county on the twelfth night after Christmas or early in the New Year and involves singing and making your way to an orchard where a communal wassail bowl is passed around.
To create a successful wassail, you will need a wassail queen, a wassailing bowl, pots and pans, cider of course, and some toast. A ladder may also be of use. The first thing to is to wet the root of the trees with the cider and then get the wassail queen to climb the ladder into the branches of the trees. Here they need to use the toast which has already been soaked in cider to 'feed' the tree spirits. A lot of noise is created by hitting the pots and pans to scare away any evil spirits and a chant is said to help encourage a bountiful harvest later in the year.
Wassail and wassail all over the town
The cup it is white and the ale it is brown
The cup it is made of the good ashen tree
And so is the malt of the best barley.
For its your wassail and it's our wassail
And its joy be to you and a jolly wassail
So as the Wurzels say 'Let cider be the spice o' life'.