London's Best Afternoon Tea Spots
Category:
News
18th October 2022
Don your finest petticoat or 3-piece suit and discover some of London's finest afternoon refreshments
What could be a more quintessentially British pastime than an afternoon tea? Finger sandwiches, scones with jam and clotted cream (make sure you get them the right way around), and, of course, pints of piping hot tea. You'll be hard-pressed to find a better choice to indulge in your own slice of luxury (pun very much intended) than in London.
London hosts some of the best afternoon tea experiences in the UK. While it's often considered a high-class affair, afternoon teas are becoming much more accessible to all. In short, you don't have to spend a fortune to enjoy the experience. In this guide, we cover afternoon tea experiences that'll suit all pockets and tastes. Let's dig in.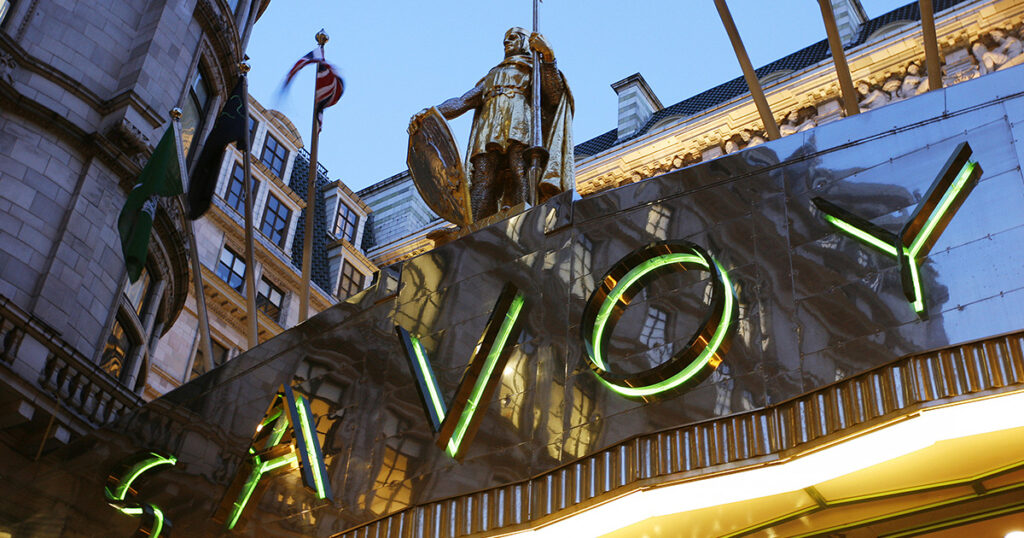 The Savoy
As the jewel in the crown of English hoteliers, and the first luxury hotel in the UK, The Savoy still holds a special place in London folklore. Afternoon tea at The Savoy is very much a traditional affair filled with grandeur. In short, it's everything you would expect and want from a posh afternoon tea. Classic sandwich fillings of ham and mustard along with fresh scones complete the timeless elegance of the venue and offerings. While it's expensive (shocker), it's not restrictively so if you are planning it for a special occasion. Prices start from £65 per person and they also cater for vegetarian, vegan and gluten-free visitors. If you want to see what's on offer, the menu can be found here.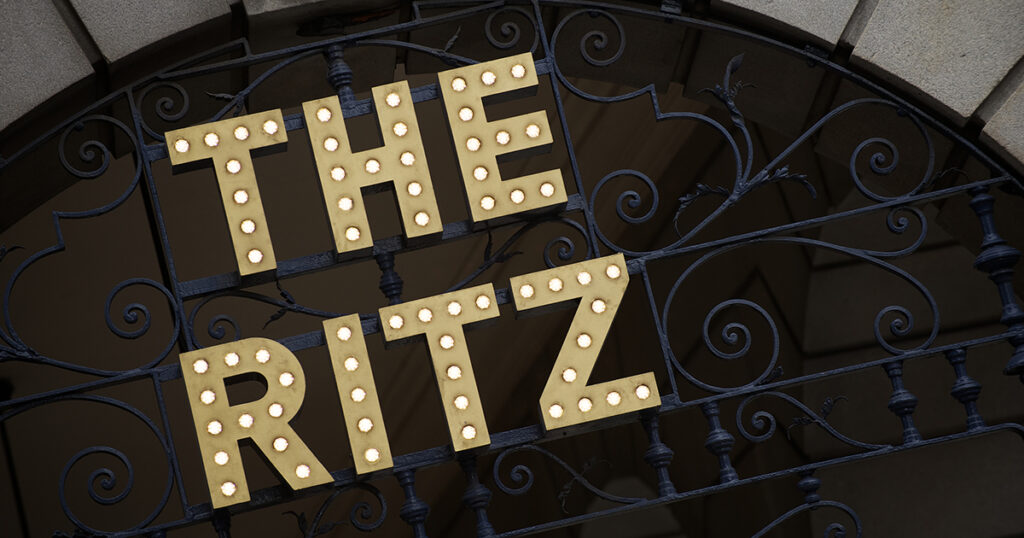 The Ritz
It's hard to conjure up luxury London without mentioning tea at The Ritz. In an opulent golden-leaf-clad room, you can expect one of the finest and most indulgent afternoon dining experiences that London has to offer.
Breaking tradition with some of its stuffier counterparts, The Ritz also offers the experience for families so that everyone in your party can savour some of their freshly-baked scones, pastries and teacakes. Portions are appropriately sized for the smaller diner. Be careful though, you may end up starting a family tradition that's too delicious to give up.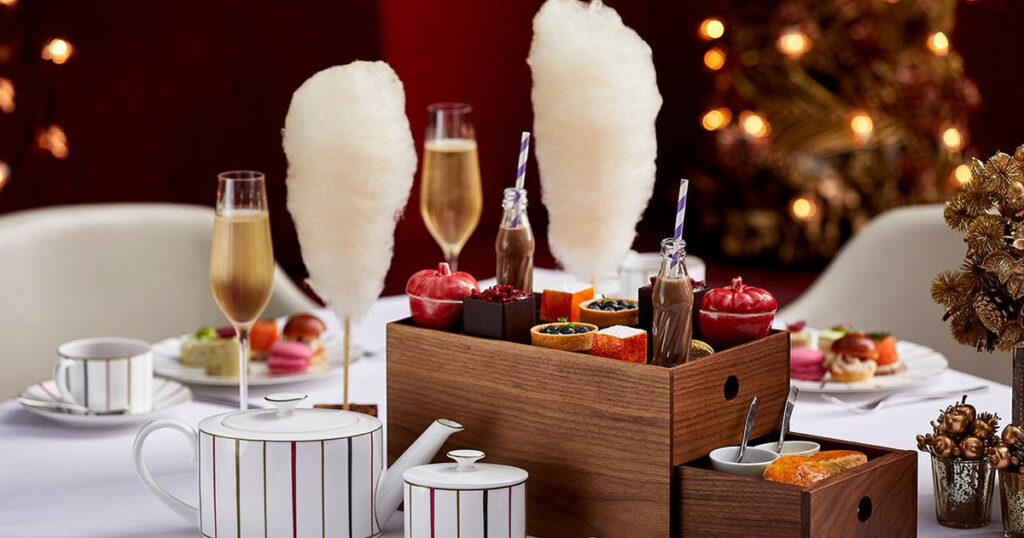 Charlie & the Chocolate Factory Afternoon Tea
While afternoon tea is generally considered something for the grown-ups, children (or the young at heart) will love this afternoon tea option based on the book by Roald Dahl. Located at One Aldwych, this menu offers a range of ridiculously sweet (what did you expect?!) foods and drinks. Expect classics like fizzy lifting drinks, snozzberry jam and chocolate swudge milkshakes. If that's not enough, then perhaps you'll be tempted by the sherbet lemon tea or a salmon and beetroot macaroon.
Predictably, the venue caters to under 12s, but you can also make it a more adult indulgence with the fizzy-lifting champagne for an additional supplement. That's sure to have you floating on the ceiling!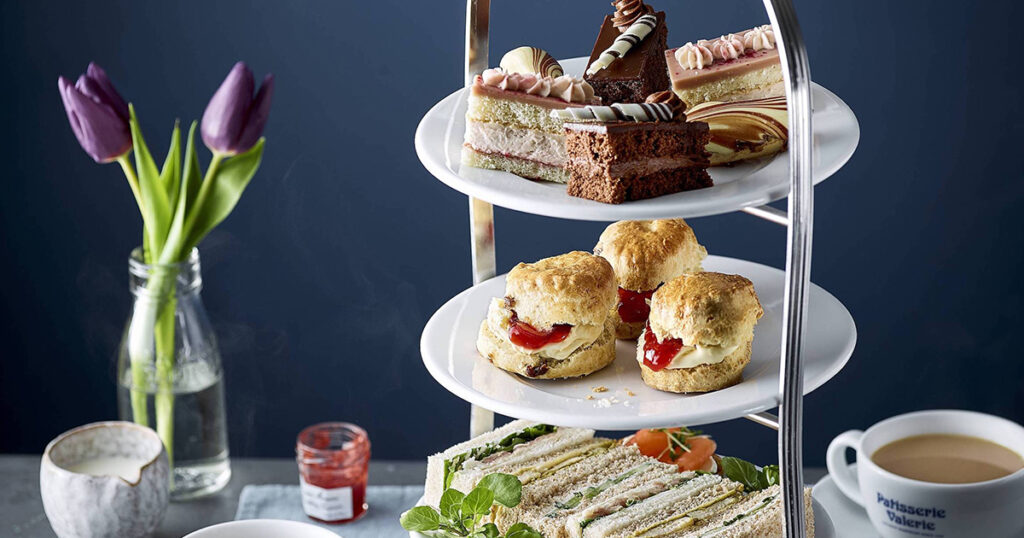 Patisserie Valerie
While the chain patisserie may lack some of the glamour of others on the list, it more than makes up for it with a delicious range of pastries, cakes and sandwiches for a very accessible price (£25 for afternoon tea for 2). With multiple venues scattered across London, this bakery will effortlessly fit around your other plans no matter where you are in the city.
The goodies on offer include delightful miniature patisseries, scones, sandwiches and unlimited tea and coffee. They also cater to a range of dietary requirements meaning just about anyone can enjoy the pleasures of an afternoon tea in London.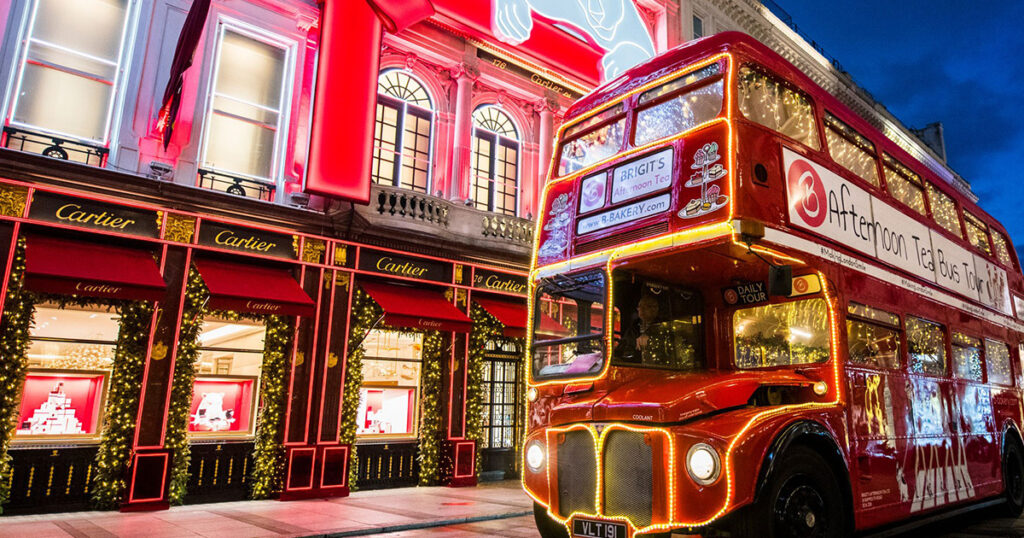 Bridget's Bakery
What could be better than afternoon tea in London? Afternoon tea in London on a double-decker bus of course! A specially designed, traditional red double-decker bus has been converted into a dining experience on wheels. As you drive around some of London's most famous landmarks, you'll sample delicious cakes and finger sandwiches made at their flagship store in Covent Garden. Stops include Big Ben, the Houses of Parliament and Downing Street, among many more.
If you have young children in tow, then the company also offer a Peppa Pig themed afternoon tea. A delight for piggie lovers old and young.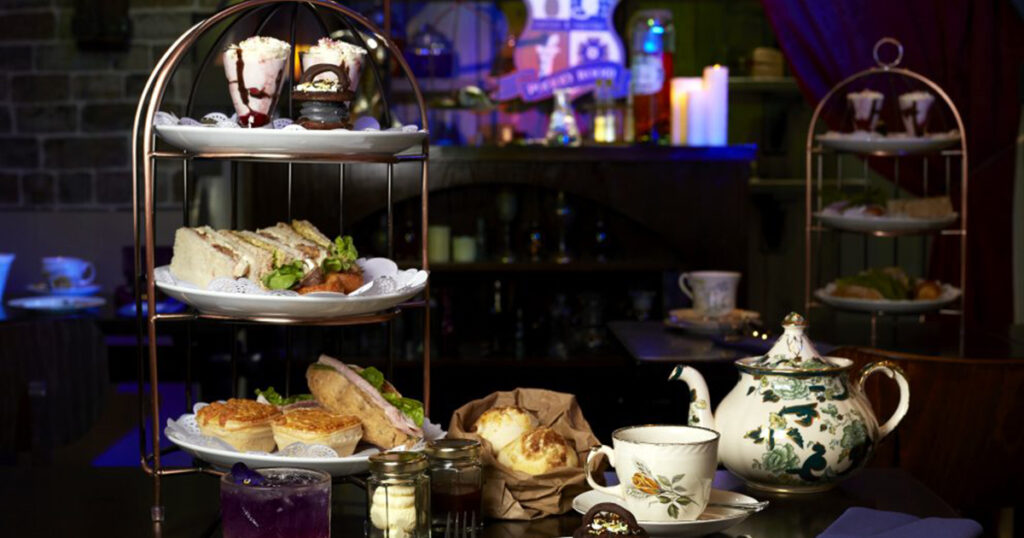 The Potion Room
Cutter and Squidge have built a reputation in London for offering some of the tastiest cakes in the city. It's perhaps no surprise then that they have now branched out into offering afternoon tea. This is a tearoom with a difference. While they clearly go out of their way to avoid mentioning any wizarding franchise in particular (and associated litigation!), the Potion Room Afternoon Tea is clearly inspired by all things witching and wizarding.
After getting cloaked up, you'll sample drinkable potions that you create under the close monitoring of your potions master. An array of British-inspired sweet and savoury treats also await you that are sure to 'bewitch the senses' and tastebuds alike. Children over 8 are very welcome though must be accompanied by an adult.
…
While afternoon tea is often considered the affair of the upper classes, London has a variety of options to suit anyone and caters to all budgets. The ultimate success of afternoon tea is that it feels like an indulgence. So while you're visiting the capital on your Berrys Coaches break, why not make it that little bit more special with one of these tasty afternoon treats?