Top Nightlife Areas in London
Category:
News
13th June 2023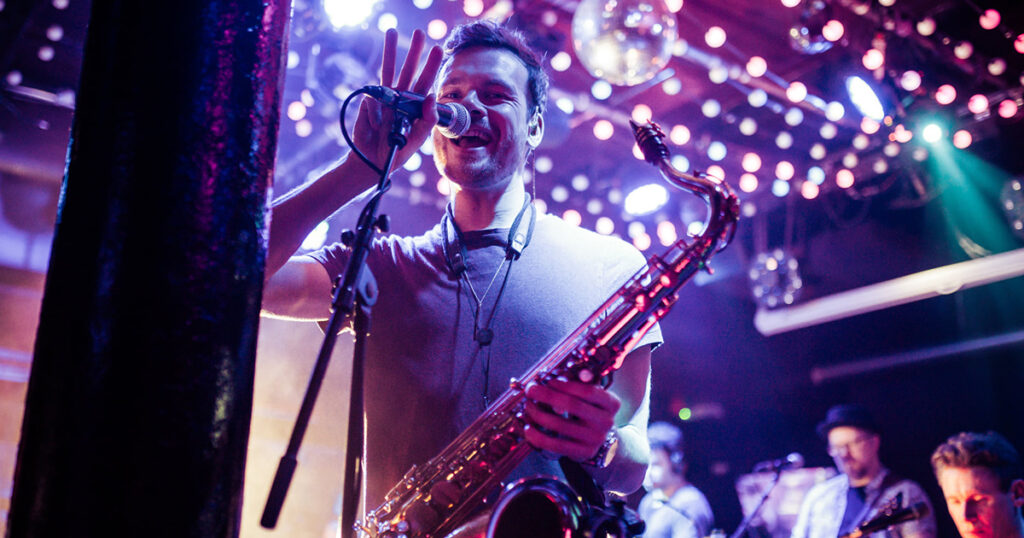 Your go-to destinations for when the sun goes down in the capital.
London has a reputation as a party capital. While there's no doubt that there are plenty of bars, pubs and clubs that are geared towards revelry, London's nightlife is much bigger than this. It's not Magaluf with more rain.
In this guide, we'll explore a variety of areas in London that'll guarantee you a great night out. Whether you are someone who wants non-stop partying or something slightly more relaxed, there truly is something for all tastes. Let's dive in…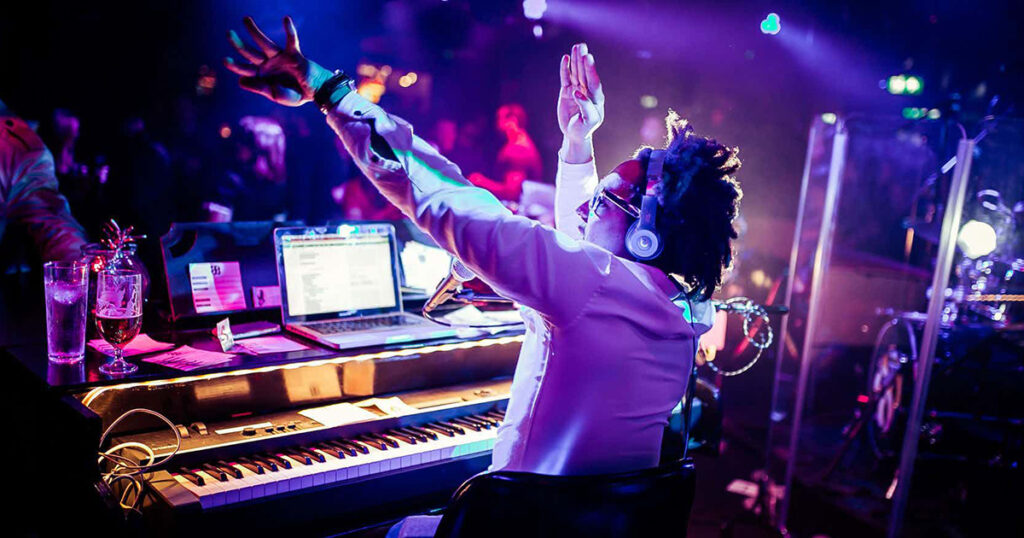 SOHO
London's West End is largely considered the capital of evening entertainment in London. Overspilling with cocktail bars, clubs, pubs and restaurants, and with theatre-land just next door, this is the place that many visitors will want to experience at least once. Especially on a Friday or Saturday night.
Right in the centre of the West End is Soho – the epicentre of London's nightlife. It's got cellar bars, top restaurants and a huge LGBT scene. If you want to dance or party, then Soho has got your back. If you're not a local and your memory stretches back, then you may remember its outdated reputation for vice and somewhat seedy goings-on. It's now significantly cleaned up its act and rebranded itself as the hedonistic playground for evening entertainment.
In Soho, where to go will depend on what you want to get out of your evening.
For those who came to party and have money to burn, you might consider Cirque Le Soir. The venue of VIP clientele and offering a debauched extravaganza of entertainment, Cirque is the place to be seen. Tables start at £1000 (not a typo).
For those who are slightly less flush with cash but still want to party, a great alternative is Piano Works, where staff will take requests to play the soundtrack to your evening live on their range of instruments and everyone dances along. It's especially great for small groups.
For those who don't want to party all night, then Soho also has a great music scene. If your tastes are more rock, then the 100 Club is a great choice – having hosted everyone from The Clash to Oasis before they got big. There are also more laid-back vibes at the Dog and Duck, which is your quintessential London boozer, but modern enough to attract a vibrant crowd. There's no one sipping their pint of mild in the back corner.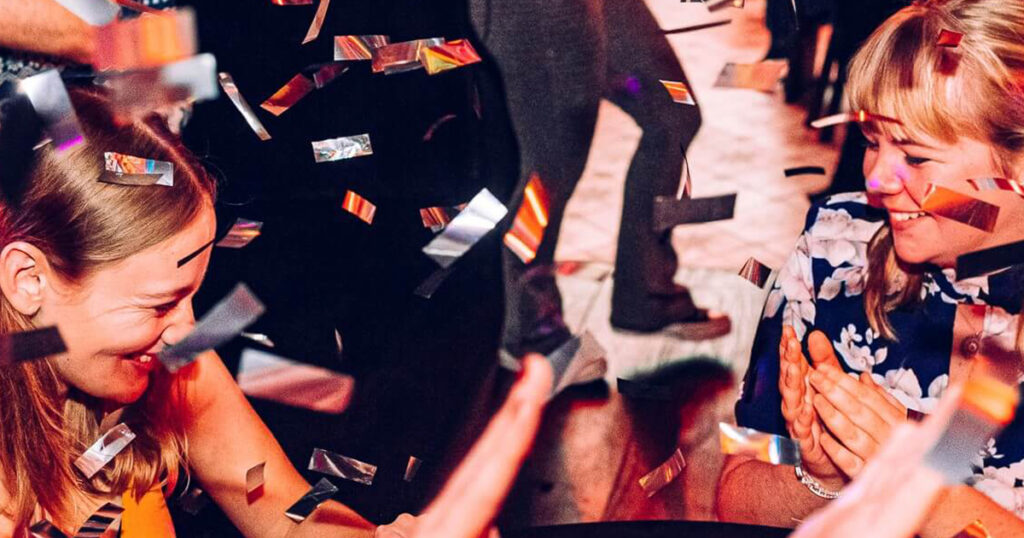 SHOREDITCH
Home of all things hipster, Shoreditch sits high on the list of places to go for a great night out. While Soho might be geared towards partying, and other places might be more high-end, Shoreditch maintains its 'rough around the edges' attitude to a night out. Think less cocktail bars, and more neon paint, £5 cans of Red Stripe and a rave in a disused, graffiti-covered tuna-canning factory.
One of the great things about Shoreditch is its abundance of odd evening entertainment. From adult ball pools to ping pong bars, Shoreditch will never leave you bored.
If you do want to have a tipple and dance the night, Callooh Callay is a cocktail bar that has reliably featured in top 50 lists for years. It's easy to see why. The Queen of Hoxton is a similarly great, all-around bar and dance hall. It also has a fantastic roof terrace, which in the summertime is hard to beat for views over East London as you sip a cocktail or three.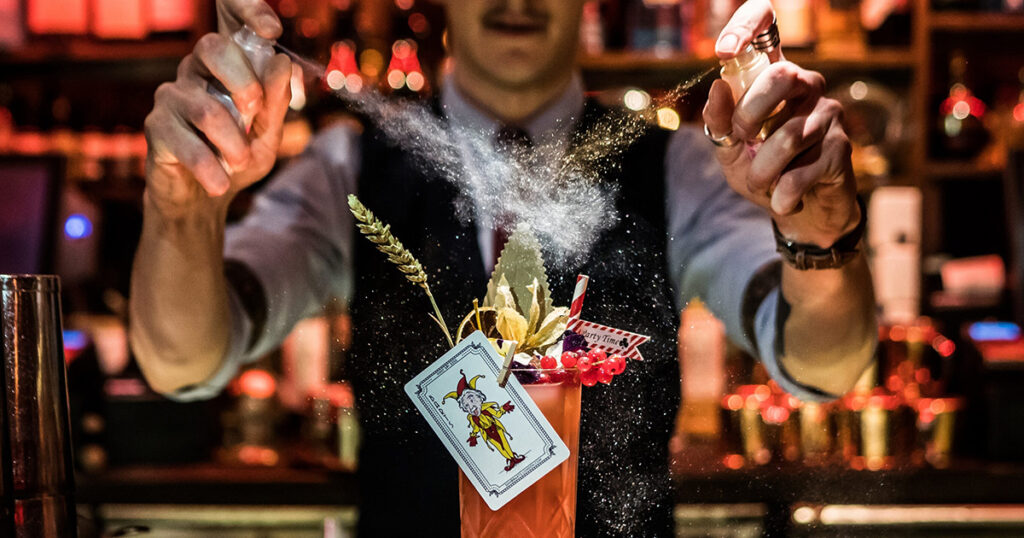 KENSINGTON
The polar opposite of Shoreditch, Kensington is where the great and the good come to party. Don't expect a cheap night out – there will be no £1 pints, though I don't think you'll find any of them in London full-stop – as Kensington is one of the most exclusive boroughs in London. However, if you are visiting for a celebration or special event, then this could be the classy destination for you.
Some highlights include cocktails which can be enjoyed over jazz at the 606 Club or at old-timey prohibition-era-style speak-easy, Barts. If you came to party, then Dolce has got you covered with its sparklers in bottles of champagne and club nights that run until 3am – if that's your thing…
However, if you don't want to spend a fortune, or have slightly more eclectic tastes then the Natural History Museum hosts drinks and events on the last Friday of the month. Highlights include being able to knock back a few drinks underneath a blue whale skeleton that's the size of a school bus. There are also live music performances, DJ sets and debates at the nearby V&A on the same last Friday of the month. Both events are completely free.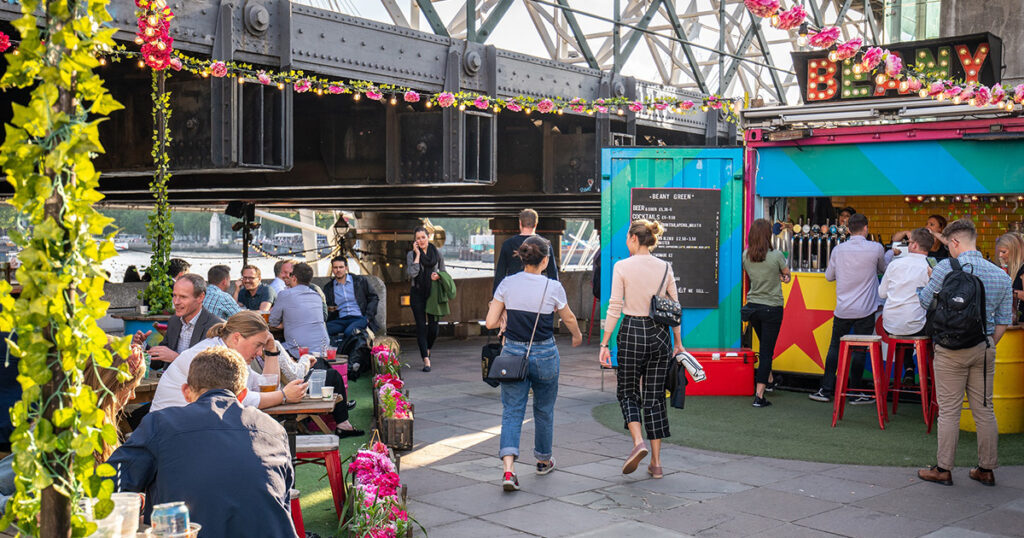 SOUTHBANK
The South Bank isn't the most obvious place for a night out, but hear us out. You can begin the evening off in a night-time spin around the London Eye, before essentially bar/restaurant hopping down the bank as the sun sets over London. Many of these have outdoor seating, which is hard to beat in terms of views during the summer months. As it's unlikely to be the obvious thing to do on a night out, it's likely to be a bit less intense on the 'party' front than some of our other destinations.
Top stops include Beany Green, an outdoor terrace perfect for evening cocktails, Limin' Beach Club, which even comes with its own mini-beach to stick your feet in, or the unusually decorated cult-favourite, Topolski.
…
No matter your taste in nightlife, London has something for you. From non-stop revolving dance floors to relaxing with your partner, friends or family over a leisurely drink, many would argue that London is at its best at night. Electric and alive with frenetic energy, the city is well worth a night out and has enough variety to keep everyone happy.